0 Flares
Made with Flare

More Info

'>
0 Flares
×
Images by Lee Ji Sun
Before the spirit wakes up completely, the body, functioning with the variety of light and heavy habits, goes to the familiar desk. Once the computer laying on the computer and sleeping overnight gets up, it adds its screen light to that of the sun. As usual, the eyes look at the world through the window, inside and outside, real and virtual, here and there.
Resembling the door which never shows the world behind while it's closed, the window always shows what it looks like over the rectangular frame. At the same time, this thin and transparent film, hanging at the height of the eyes, separates clearly the two sides. The see-through scene stays in its curious position of which no one reveals the secret. Standing next to the window, the person observing lets him/herself observed by someone else watching through the other one's window.
What is seen in the frame from somewhere inside is in the endless variety of colors. A shiny blue sky gets wet by grey raindrops, then the thick fog covers the air in black evoking the most fearful imagination. Rain marks on the surface of the window reign over the entire room as densely as the sun attacking by its arrow of light. Fresh wind entering through the window left ajar cools the body, and green perfume from the widely opened window clears up the aged dust in the corners.
As the colors painted in the picture frame on the wall give different impressions each time, the image in the window frame hanging next to it changes the seasons. The scenes fade out like the television images that a tired man watches in the most comfortable spot in the house, or they fix the eyes like the fantasy of the favorite film which appear in the dreams every night. In front, there is a building with numerous frames, which light on as if they try to give a hint of someone's presence, and the inside seen behind the curtain leaves the most curious stories to the neighbors.
By the window next to the seat in a running train, continuous sequences pass more quickly than the film projection, and the farthest sky feels closer by the window of an airplane, flying farther and higher. Finally, there are two round windows on the face, which contain and reflect both inside and outside. By the one middle of the heart, countless lights are turned on and off.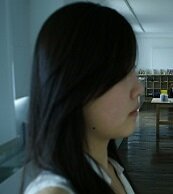 Contributor, Lee Ji Sun
Lee Ji Sun is a young Korean artist, who does activity in Paris, France. CultureM Magazine releases her art works images by drawing, writing, video, photograph in every month. http://artleejisun.com/
이지선은 프랑스 파리를 중심으로 유럽에서 활동하는 젊은 한국여성작가이다. 회화, 비디오, 사진, 글 등의 다양한 매체로 작품활동을 하고 있는 그녀의 이야기를 컬쳐엠이 소개한다. http://artleejisun.com/