0 Flares
Made with Flare

More Info

'>
0 Flares
×
Images & Texts by Shin Mi Jung 
The Bridge of tragic fate, Mankyung Bridge
The half built concrete bridge is the very first bridge that had a paved road in Korean history. It may sound like the bridge has some sort of honorable significance, however Japan had built this tragic bridge in order to transport the rice that were exploited from the farmers in Iksan to Kimje during the colonization period.
Despite the history, the bridge was considered one of the most beautiful places in Iksan especially in spring when all the cherry blossoms bloom. That reminded me of a short novel 'The Wild Flowers in My Memory' written by Yoon Hong Gil. The novel describes an innocent little child who is naively happy seeing all the wild flowers on Mankyung Bridge while being surrounded by fear and panic of refugees in the middle of Korean War. As the little girl 'Tamura' hadn't understood the reality of colonization during the colonization period.
The bridge that had brought tears and memories to countless people is in the mist of collapse and for security reasons the government had decided to demolish the bridge. As the demolition of the bridge hit the newsstand, some people have shown their opinion against the decision. Now the disconnected bridge is barely keeping its place between demolition and retention. By a Korean artist Shin Mi Jung 
비운의 다리, 만경교
콘크리트로 만들어진 이 반토막 다리는 우리나라 최초의 포장도로이다. 큰 명예를 지닌 것도 같지만 일제가 익산지역의 농민들로부터 수탈한 쌀을 김제로 실어 나르기 위해 만든 비운의 다리다. 하지만 봄에 벚꽃나무가 만개할 때면 가장 아름다웠던 장소이기도 했다.
문득 윤홍길의 단편소설 '기억 속의 들꽃'이 떠올랐다. 6.25전쟁이라는 비극적 상황과 피란민들의 죽음에 대한 공포와 두려움 속에서도 만경 다리 위에 핀 들꽃을 보며 마냥 행복해 하던 순진무구한 아이의 모습을 보여준 소설이다. 마치 일제 당시 식민지의 현실을 인식하지 못했던 소녀 '타무라'처럼 느껴졌다.
지금까지 수 많은 사람들에게 눈물과 추억을 안겨준 이 다리는 현재 붕괴의 위기에 처했고, 안전상의 문제로 철거를 하기로 결정되었다. 만경교가 역사 속으로 사라질 위기에 처하자 철거소식에 반대의 목소리도 크다. 끊어진 만경다리는 존치와 철거의 기로에서 간신히 그 자리를 지키고 있다. – 작가 신미정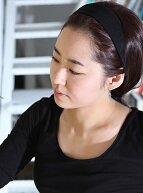 Contributor, Shin Mi Jung
She is a Korean artist who does installation, media arts. Starting with the exhibition in an abandoned old factory, she has been working on turning her interests in peoples and places that are lost in the memory into art projects. www.shinmijung.com
신미정은 설치와 영상 매체를 통해 작품 활동을 하고 있는 전도유망한 작가다. 폐공장에서의 첫 전시를 시작으로 망각된 장소와 사람에 대한 깊은 관심을 담아낸 작품을 선보이고 있다. www.shinmijung.com