0 Flares
Made with Flare

More Info

'>
0 Flares
×
By John Glynn
Remember, this is just my honest opinion, I don't expect everyone to actually agree. I am listing MY ten favorite. – John Glynn
It's a bona fide lie to say that the best rappers managed to change the game, the best rappers made the game. Rap is a forever-changing musical landscape. I believe that the ten rappers listed here were/are the principal catalysts for those changes. Natural flow, lyricism, and egotism certainly help mould a rapping colossus. Regardless of generation, getting shot seems to help, too.
10. KRS-One:
A true genius, he is one of the greatest to ever grace the field of rap. KRS is a poet amongst rappers. He ignored raps movement towards guns and drugs, instead opting to deliver lyrics with a meaning, engaging the spirit and the mind of the hip-hop enthusiast.

For a person to understand KRS-One, it is imperative that you open your mind up to the possibility of ingenious lyrics, rich rhymes, delivered with a real purpose. KRS-One is not a one trick pony; he is not a bullshit artist. He was probably the first artist to rap in an "unusual" style, influencing countless rappers to follow in his footsteps, but often in his shadow. He is partly responsible for taking hip hop culture and rap music to tremendously lofty heights. His career ignited in 1986 and since then no other rap or hip hop artist, bar Eminem and Nas, has come close to his consistency with knockout albums. 1987, Criminal Minded, 1988, By All Means Necessary, 1989, Ghetto Music, 1990, Edutainment, 1991, BDP Live Hardcore, 1992, Sex And Violence, 1993, Return of the Boom Bap, 1995, KRS ONE.
KRS has lectured at Harvard, Yale, Vassar, Columbia, N.Y.U. and Stanford, hence the nickname "THE TEACHER." One of his most famous quotes is,:"This is rebellious music, not gangster music." KRS-One is so far beyond rap, he is the ultimate manifestation of hip hop culture
In his very own words:"If you don't know me by now, I doubt you'll ever know me".
Favorite Song: "Sound of Da Police"
Favorite Lyric/s:"SOUND OF DA POLICE"
"Black people still slaves up til today
But the Black police officer nah see it that way
Him want a salary
Him want it
So he put on a badge and kill people for it"
9. Rakim. If KRS-One is one of the most intelligent men to ever rap, Rakim is one of the wittiest, a truly phenomenal lyricist. Alongside partner Eric B., Rakim is credited with making New York hip-hop part of mainstream music. With classics like The Ledge, Check Out My Melody, and Paid in Full, Rakim's remarkable flow, lyrics and delivery make him a true great. He was signed to Dr. Dre's Aftermath Entertainment record label in 2000, for work on an album sheepishly titled Oh My God. The album experienced several changes in artistic direction. While focusing on finishing the album, Rakim made guest appearances on various Aftermath projects, including the Dr. Dre-produced "The Watcher Part 2" by Jay-Z, and Eminem's brilliant 8 Mile soundtrack. Regrettably, artistic differences with Dre resulted in Rakim leaving the label in 2003 and Oh My God was indefinitely shelved. If your Number 1 rapper does not mention Rakim as one of their influences, maybe you should think about finding a new favorite rapper
Favorite Song: "Holy Are U."
Favorite Lyric/s: "PAID IN FULL"
"I need money, I used to be a stick-up kid
So I think of all the devious things I did
I used to roll up, this is a hold up, ain't nuthin funny
Stop smiling, be still, don't nuthin move but the money
But now I learned to earn cos I'm righteous
I feel great! so maybe I might just
Search for a 9 to 5, if I strive
Then maybe I'll stay alive."

8. Lil' Wayne: Like most rappers, Wayne is a pathological liar. Weezy is a little different, he doesn't do it all for self-enhancement. He's prepared to say anything about himself so long as it causes controversy. In that sense, he is a pure rapper, as honest as Eminem. Lil Wayne has changed the face of rap forever with his innovative style, mixing southern punch lines with witty lyricism. Quite a few regard Lil Wayne as a joke, but I regard these people as jackasses. Hate him or love him, Lil Wayne will always be known as one of the finest rappers of the generation. Weezy bags the #9 spot because of his unparalleled talent of writing killer lyrics. Signed with the Cash Money record label, Little Wayne has been making bags of money and bags of music since he was a teenager, his work ethic is unparalleled, often spending 17 hours a day in the studio.  He is a bizarre character, and was once a gunshot victim, but not in a 2Pac or 50 Cent fashion, he actually shot himself. He was high at the time. Wayne openly admits that his heavy drug habit has always played a part in his lyrical output.

Lil Wayne is often praised for his smooth flow, his method of delivery, use of absurdity, wordplay, and character.  His rough voice and poetic delivery give him a rather exclusive sound.  Lil Wayne regularly boasts that he does not write down his lyrics.  In "A Milli," when asked why he doesn't write lyrics, he replies: "cause I ain't got time."
Wayne has evolved from a 13 year-old nonentity to a 29 year-old icon. He doesn't claim to be a gangster, he claims to be an artist, tormented every step of the way by addictions that he wholeheartedly admits. From his addiction to recording music at an unnatural pace, to drinking copious amounts of prescription cough syrup, even though it claimed the life of his good friend Pimp C, Weezy is a troubled soul. Wayne famously told MTV, "Why focus on me? Don't compare me to no one. Don't compare me to no one who has passed, and why they passed." He cleaned up his act, left the syrup on the shelf, permanently. His music, his rhyming; his overall final product is now sharper. Wayne's confidence most definitely exceeds cockiness, but his achievements give him good reason for it. Make no mistake about it; Weezy is truly a force to be reckoned with.
Favorite Song: "She Will" Feat. Drake, Rick Ross, Cans & Busta Rhymes.
Favorite Lyric/s: "LOLLIPOP (REMIX)"
"Safe sex is great sex. Better use a latex, 'cause you don't want that late text, that 'I think I'm late' text."
7. Jay-Z: Commonly referred to as the best rapper alive, Jay-Z assumed the position as rap's heir following the deaths of 2pac and Notorious B.I.G. What's more, he represents Brooklyn; Jay-Z's blazing narratives and silky flow helped make hip-hop's birthplace even more illustrious. Jigga's marriage to R&B's most beautiful ambassador, Beyonce, only benefited him in the swagger department. Why isn't he further up my list? Well, I respect him, I admire him, but I feel other rappers have influenced the scene much more than Jay Z.

Undoubtedly, Jay is extremely talented, one of the most significant rap artists ever to grace the field. In the broadest possible terms: he is unmovable when it comes to talking about how unbelievable he is; He is a methodical rapper, managing not to overwhelm the listener with double-time flows. He opts for rock-solid boasts; often it can take some time for the message to completely unravel. (From "Threat": "I dig a hole in the desert, they build the Sands on you / Lay out blueprint plans on you / We Rat Pack niggaz, let Sam tap dance on you.") Jay-Z has released eleven studio albums, including his unforgettable debut, Reasonable Doubt, along with his masterpiece: The Black Album, and the much praised classic: The Blueprint. I personally feel that an artist such as Eminem is a slightly stronger adversary. For what it's worth: The one time they rapped together, on "Renegade," widespread consensus was Eminem — in the words of Nas — "murdered Jay-Z on his own shit." Jay-Z was one-half of a massive rap rivalry … a beef that he lost, rather spectacularly. It is important to remember that Nas's "Ether" is perhaps the genre's greatest ever diss track. Jay's "Takeover" is a phenomenal track, definitely one of the strongest diss tracks ever, super solid, no question about it. Plus, in the end, Jay eventually signed Nas to Def Jam, and the loss had minimal impact on his reputation. However, it did embarrass him, it even managed to humble him……. for a few months, anyway. This is one of the reasons he only ranks at #7 on my list. Jay has perfected the model for the multiplatform hip-hop entrepreneur and is the most lucrative rapper alive. Yes, Diddy preceded him as a hip-hop entrepreneur, but Diddy barely raps. Ultimately, this means Jay will always have a special place in the world of music. He is a great rapper, just not the greatest.
Favorite Song: "99 Problems"
Favorite Lyric/s:"JOCKIN""
"That guy from Oasis said I couldn't play guitar…somebody shoulda told him I'm a f*ckin rockstar."
6. Ice Cube: O'Shea Jackson (born June 15, 1969), almost always referred to by his stage name Ice Cube, is an American rapper, actor, screenwriter, and producer. He began his career as a member of the rap group N.W.A along with group leader Eazy-E, and later launched a rather triumphant solo career in music and cinema. What makes Ice Cube so good? Is it his lyrics, his flow, or his charisma? In my opinion, he's better than Jay, Lil Wayne, Scarface or any Wu-Tang member… and as far as it goes, besides 2Pac, Ice Cube is possibly the greatest West Coast Rapper ever. He has two back-to-back classics, AmeriKKKa's Most Wanted and Death Certificate.

Twenty years ago, he was the nastiest dude in pop music, a near-perfect realization of the politicized-gangsta that generates mass hysteria. Ice made it cool to cuss and talk about shooting people. He decided to ditch his crew, then go on to release three classic albums' worth of righteous wrath, adamant roars of half-articulated hatred that absolutely captured the imagination of a nation. Ironically, white kids seemed to be a large slice of his followership pie, the same kids Ice would've probably hated if he'd met around the time when racial tension was hitting a national high. People were angry, confused, tirelessly trying to figure out what the LA riots meant. He somehow figured out a way to translate this time-bomb persona into a true movie character in Boyz N the Hood before modifiying it and turning it into an ill-treated, even victimized soul in Friday. Sadly, he's now a seemingly mid-level movie star. It is pathetic; no one seemed to bat an eye when he made a piece of tripe like: Are We There Yet? This man is a lyrical mastermind, his album sales speak volumes. Just listen to the timeless classic sound of these N.W.A songs: "Straight Outta Compton," "F*ck the Police" and "Gangsta Gangsta," Are they not some of the best rap tracks ever? Ice is partly responsible for creating musical history. Some of his solo stuff still sounds so fresh, particularly: "You Can Do It" and "We Be Clubbin." Two days ago, I listened to The Predator album, one of the first rap albums I ever absorbed. I wanted to see if it was as edgy and irate as I remembered. Guess what? It was. My favorite track, "It Was a Good Day" is utterly brilliant; part of the reason that day was a good day. For once, he didn't have to use his gun,
nobody he knew got killed; he just drops lines with an unrivaled power, a real power that resonates, sincerely.
In Ice's own words, "I started gangsta rap."
Favorite Track:"It Was a Good Day"
Favorite Lyric/s: "UNTIL WE RICH"
"Look into my eyes if you wanna know me
Before you hypnotized, homey what do you see
A figure that's just a little bigger than dealers
A hustler countin figures ain't pulled no triggers
Can you dig us, we be the ultimate lick
We's the hitters, that make the ultimate hits."
5. Nas: Nas could justifiably be crowned the greatest rapper of all time. Who else has stayed longer in the game, consistently delivered, and managed to remain so relevant? Some people might say, forget 2pac, forget Biggie, let us leave sentiment aside, those two rappers were in the game only a few years before they died and became immortalized. Think about it, if they were still alive, would they still be waxing strong? Would they still be dropping relevant albums? Well, yes, I think they would. That rant aside, Nas has dropped nine albums since his debut (Illmatic) in 1994. All going gold and platinum, these facts do not lie. I know many people say Jay-Z is superior. I know Jay is a far shrewder business man, but stop and ask yourself, can he go bar for bar with Nas? No, he can't, it is as simple as that. He just makes more marketable songs. When it comes to the lyrics, Nas would absolutely wipe the floor with him. That is my opinion, take it or leave it. Nas dented Jay's career, dented his credibility, his attack came in the form of the infamous "Ether." The legendary track is from the legendary album "Stillmatic," widely considered the greatest hip-hop debut of all time.

The song was a retort to Jay-Z's "Takeover" – a diss track towards Nas. When asked why he decided to the name the track "Ether," Nas replied: "I was told a long time ago, ghosts and spirits don't like the fumes from ether, and I just wanted to affect him with my weapon and get to his soul." In a way, Nas destroyed a piece of Jay's soul with this ingenious track. "Hit Em' Up" (2pac) and "Ether" are probably the two best diss tracks ever to grace the world of rap. Jay stupidly referred to Nas as a washed up rapper. Nas replied in true Nas fashion, scorching lyrics, designed to permanently scar, "I got this, locked since Nine-One (1991), I am the truest/ Name a rapper that I ain't influenced." "Ether" contains several gay-based slurs directed at Jay: "When these streets keep calling, heard it when I was sleep/ That this Gay-Z and Cock-A-Fella Records wanted beef", "Then you got the nerve to say that you're better than Big/ Dick-suckin' lips, why don't you let the late great veteran live", "You a dick-ridin' f*ggot, you love the attention/ Queens niggas run you niggas, ask Russell Simmons." The insults only get more personal, Nas focuses on Jay's seemingly unpleasant appearance and accuses him of misogyny, rapping, "You seem to be only concerned with dissin' women/ Were you abused as a child, scared to smile, they called you ugly?" followed by "Foxy kept you hot, kept your face in her puss/ What you think you gettin' girls now because of your looks?"
Tell me these aren't some of the best lines you have ever heard (or read); there is not a single word I can use to do this man the justice he deserves.
Favorite Song: "Ether"
Favorite Lyric/s: "ETHER"
"How much of Biggie's rhymes gonna come out your fat lips?"
4. Dr. Dre: Dre's influence on hip-hop is immeasurable. His first musical venture came in an explosive manner. N.W.A. originated due to the innovation of Eazy-E, he linked up with Ice Cube and Dre to form the hardcore rap group. Their greatest success came when they unleashed the fierce Straight Outta Compton, a rancorous street classic that resonated with the despondency of blacks in LA. The record became an underground success with almost no airplay. Dre parted ways with N.W.A. due to financial differences, deciding to focus on a solo based career. The Doc. teamed up with his bodyguard Suge Knight to establish Death Row Records. Dre played an influential role — literally and figuratively — in the G-Funk movement of the late 80s/early 90s. The Doc also propelled West Coast hip-hop to new heights with his extraordinary debut album, The Chronic. Dre's phenomenal bass lines and hefty synths, combined with the lyrical flow from the likes of Snoop Dogg, radically transformed the sound of hip-hop.

Let us not forget, this man is responsible for Eminem being the superstar he is today. Dre also signed 50 Cent. He would go on to sell over 12 million copies of his own debut, Get Rich or Die Tryin', aided by Dr. Dre's magical touch on the gigantic single "In Da Club." I realize this article is about the best rapper ever, I just felt the need to really highlight how important this man has been for music. On that note, let us not forget that 2001 is one of the greatest ever musical releases; this was such an important album, arriving when music needed a redeemer. It is definitely my favorite hip hop album, no doubt.
Favorite Song: "Still Dre"
Favorite Lyric/s: "STILL DRE"
"Since the last time you heard from me I lost a friend
Well, hell, me and Snoop, we dipping again
Kept my ear to the streets, signed Eminem
He's triple platinum, doing 50 a week
Still,I stay close to the heat
And even when I was close to defeat, I rose to my
feet"
3. 2pac: He was one of rap's great storytellers. His ability to convey the gangster lifestyle was supreme. His popularity and notoriety exceeded that of almost any other artist. 2pac was a rapper first, but managed to totally change the game by developing his rap achievements into international, rampant popularity. The shootings of 2pac and Biggie remain rap's biggest stories EVER, no question. In 1994, 2pac supported BIG as an artist, assisting him in his somewhat staggering career. They worked on some tracks together, including the infamous "Runnin". Supposedly, 2pac even bought Biggie's first Rolex watch. Unfortunately, all good things come to an end, and in this case, a rather drastic conclusion beckoned.
The 'beef' between the pair came towards the end of '94. The catalyst for all the animosity began when 2pac was shot five times on November 30th, 1994. Pac somehow survived, he was justifiably livid, this anger paved the way for the legendary beef between him, Biggie, Diddy (then known as: Puffy) and Badboy Records as a whole. Pac was shot 5 times in a recording studio in Times Square.  Pac was adamant that the shooting was orchestrated by Bad Boy Records and its affiliates. For almost two years, venomous hatred between Biggie and Pac spewed, exchanging threats and spiteful lyrics, rather frequently.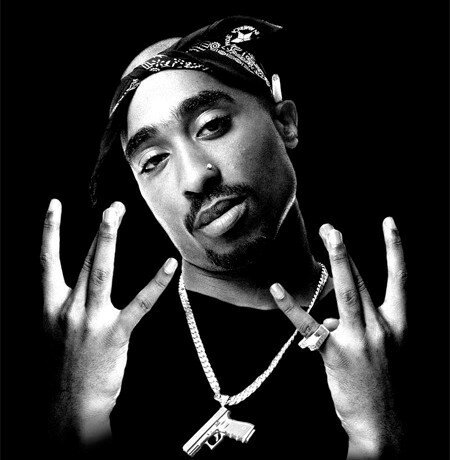 On the night of September 7, 1996, Pac attended a Mike Tyson fight in Las Vegas. This was to become a night that would go down in musical history, for all the wrong reasons. The wicked setting of the flashing lights and glamour would be the setting for 2pac's final bow. While at a red light, a white Cadillac pulled up to the right of a BMW, a BMW which had 2pac in the passenger seat. A shower of bullets rained down upon the BMW. Pac made a dart for the back seat, dishonorably, getting shot twice in the process. One bullet hit him in the leg and ricocheted up into his lung. September 13th, six days after the shooting and six days of intensive care, Afeni, 2pac's mom made the decision to let her son's spirit be free. The world lost one of the greatest poets ever, a true genius. He wasn't the best rapper ever, but he was the most important.
The picture provided was taken on the same fateful night.
Favorite Song: "Unconditional Love."
Favorite Lyric/s: "CHANGES"
"Give the crack to the kids who the hell cares
one less hungry mouth on the welfare
First ship 'em dope & let 'em deal the brothers
give 'em guns step back watch 'em kill each other
It's time to fight back that's what Huey said
2 shots in the dark now Huey's dead
I got love for my brother but we can never go nowhere
unless we share with each other
We gotta start makin' changes"
2. Eminem: In the words of the supremely talented Drake, "Eminem is the greatest rapper ever." I almost wholeheartedly agree. Em certainly is the greatest rapper alive (I stress alive); it is as simple as that. A groundbreaking artist, he has captured the imagination of frustrated adolescents, from San Francisco to Seoul. He was once the nightmare of parents around the world, providing lyrics designed to shock. Though his abilities supersede his race, it is essential to recognize that Eminem, aka Marshall Mathers, is the only white rapper ever taken seriously by the rap music industry.

His flow is as sharp and fierce as anyone in the game, his capacity to cut people in half with vocabulary is second to none. In an entertainment business that demands results, Eminem delivers.
Love him or hate him, you can't deny the all-consuming whirlwind that has been Marshall Mathers' career since he debuted in the late 90's. He's sold more albums than any MC ever, and is probably the most recognized living performer in the world. Along with this, Slim Shady has shown dexterity on the mic that even the most ruthless old-school cat or incensed young G would have to laud — just listen to the lyrical ingenuity of "Stan" or the hypnotizing angst of "The Way I Am." Maybe only Pac and Biggie could ever compete with Eminem's flow; there aren't many contemporary rap musicians who can measure up to him lyrically. He has constantly defied each pessimist, delivering answers each time he has been questioned.
Bad Meets Evil, Em's latest project, sees him team up with Royce da 5'9″ (Bad). The two men are best known for collaborating on a self-titled song that appeared on Eminem's outstanding debut album The Slim Shady LP in 1999.
He has influenced a generation, an angry generation in desperate need of a vocal outlet, and long may it continue.
Favorite Song: "Stan"
Favorite Lyric/s:"BEAUTIFUL"
"And I know some s***'s so hard to swallow
But I can't just sit back and wallow
In my own sorrow but I know one fact
I'll be one tough act to follow
One tough act to follow
I'll be one tough act to follow
Here today, gone tomorrow
But you'd have to walk a thousand miles
In my shoes, just to see
What it's like, to be me
I'll be you, let's trade shoes
Just to see what it'd be like
To feel your pain, you feel mine
Go inside each others' minds
Just to see what we'd find
Look at s*** through each others' eyes"
1. Notorious B.I.G: "You're nobody till somebody kills you." The eternally poignant lyrics of the Notorious B.I.G. on "Life After Death," released just fourteen days after his brutal murder in L.A. in 1997. Those infamous words aren't exactly true, not in his case.
Biggie Smalls is almost certainly the finest lyricist ever, dead or alive.
His talent was unquestionable, sincere and raw and not deified after death. Unlike 2pac, B.I.G. was not an artist whose ill-timed outcome overshadowed his talent. Don't get me wrong, I love 2pac, love his music, loved his distinctive flair, but the big man was a rawer, more powerful rapper.
B.I.G. has left a jaw dropping legacy of lyrics beyond modern day comparison. Constantly imitated (Shyne), but never duplicated. The same certainly cannot be said of the immeasurable, somewhat credible 2pac clones (DMX, The Game, Xzibit…). You might disagree with that statement, but I think when East vs. West lyrics experience thorough examination, results fall in the East Coast's favor. B.I.G.'s lyrics are as dynamic and pertinent today as they were 14 years ago.

As potent lyricists go, cameo king Lil Wayne wears the contemporary crown; Kanye and Em are pretty much timeless, with an artist such as Drake in close pursuit. But there is only one
rapper who perfected the poetry of the streets, perfected it to a level that is very rarely reached.
Biggie is the reason people rap the way they do, he has influenced so many, from Jay Z and Nas to Kid Cudi and Drake. His skills were (still are) untouched, his flow uncanny, and the fact that he became an obese, cock-eyed sex symbol attests to his supreme swagger. No rapper has ever been as engaging as this gigantic man from Brooklyn. He will forever be recognized as the main man in rap, the man who changed the face of this game. He was one half of the most prevalent feud in hip-hop history – Biggie vs. Tupac. Two great men, two stubborn men, harboring so much hatred, unsurprisingly, resulting in extreme physical violence. When you listen to both rappers violent lyrical assaults, and public denouncements of one another, it is difficult to believe that they once performed together and also supported each other off stage!
Jimi Hendrix, Prince, James Brown and the Rolling Stones have catalogs of music that shaped and laid new foundations for their genre, and I think Biggie should join this incredible group. His flame will forever burn; Biggie's name will remain notorious in his "Life After Death."
Favorite Song: "Hypnotize"
Favorite Lyric/s: "JUICY"
"Super Nintendo, Sega Genesis
When I was dead broke, man I couldn't picture this
50 inch screen, money green leather sofa
Got two rides, a limousine with a chauffeur
Phone bill about two G's flat
No need to worry, my accountant handles that
And my whole crew is loungin'
Celebratin' every day, no more public housin'
Thinkin' back on my one-room shack
Now my mom pimps a Ac' with minks on her back
And she loves to show me off, of course
Smiles every time my face is up in The Source
We used to fuss when the landlord dissed us
No heat, wonder why Christmas missed us
Birthdays was the worst days
Now we sip champagne when we thirst-ay"
In the words of 50:
"Rappers are liars until I see that their actions coincide with their lyrics"