0 Flares
Made with Flare

More Info

'>
0 Flares
×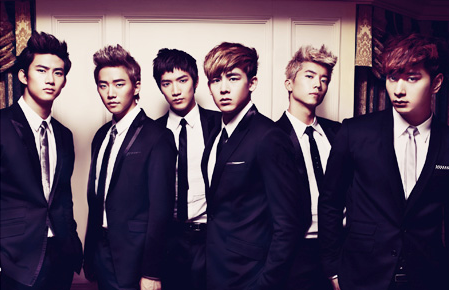 Members of K-pop boy band 2PM pose for a promotional photoshoot for their most recent release, "Hands Up," in 2011. In their fifth year as one of the country's most popular groups, they insist the best is yet to come, with great participation in the creative process. / Courtesy of JYP Entertainment
By Kwaak Je-yup (The Korea Times)
Dancing boy bands are a common feature in K-pop, but when it comes to fan loyalty, 2PM has few rivals.
Catchy dance pop singles produced by their agency's head producer JYP, intricate choreography that often takes a cue from acrobatics, handsome faces with slick hairstyles gelled to perfection and especially their signature chiseled torsos have driven quite a few fans around the world mad.
In their hundreds of thousands, to put a real figure on it. Their first Asian tour, which ran from September to March and visited eight states, attracted nearly 160,000 people. Venues were packed every night.
Last month, they sold out six consecutive dates at Tokyo's iconic Nippon Budokan arena — every ticket was purchased under a minute after sale — amassing an additional 60,000.
The six members' regular meetings with their official fan club "The Hottest" look like a rock-infused church service; women let go of their inhibitions and find (momentary) salvation. They sigh, scream, cry, swoon and of course, sway with the massive group.
Non-Korean fans visit the group's home country and take pictures in front of their agency, JYP Entertainment, in Cheongdam-dong, southern Seoul, as well as billboards with their faces on it, like a pilgrimage.
And when controversy arises, the group elicits scorn and fury like no other. Beginning as a seven-member act — with Junsu, Nickhun, Taecyeon, Wooyoung, Junho, Chansung and Jaebeom — the 2009 announcement of the last name's removal from the group brought angry fans holding demonstrations for weeks.
What is behind this ardent emotional connection? Even the members themselves want to know.
"I'd guess that it's the 2PM identity," says Wooyoung, 23. "The six members have different individual characters. I don't think we can be called a global group yet, but when we had our first Asian tour … we couldn't believe the love that all the Korean and other fans were showering us with, singing along to our songs in groups."
"I can't properly describe the feeling on stage when the Cool Ray (lighting device aimed toward the audience) at the Budokan is turned on, which only happens at sold-out performances," says Taecyeon, 23. "Someone told me that it's really difficult to have the Cool Ray up. When it happens, you can see every face in the house, all the way up to the third floor. It made me unbelievably happy to see the 60,000 fans (over six nights)."
If they were best-known for their precision and synchronized dance moves five years ago, 2PM now seem more at ease, enjoying themselves more and trying to let each personality reflect in music and performance — and perhaps even lose control.
"Compared to our debut stage, we are definitely more relaxed," said the rapper. "And we really know each other like family now. We can improvise a little now because of that."
"Before one performance, we actually agreed not to rip our shirts off," says Junho, 22, referring to one of their signature attractions, "But as we were coming off stage, we noticed Taecyeon's abs were showing. He explained it as an in-the-moment thing; he said he was high on the fans' love."
The singer added that he and Junsu, one year his senior, are also increasing the level of participation in the creative process, for lyrics, music and the overall concept, among other things.
"We are also saddened by the fact that our overseas activities prevent us from spending more time in Korea and seeing our fans here more," says Chansung, 22. "Stay tuned for our next Korean album, which should be released around this fall. It will be better than what we've done before."
Even in this path of evolution, some things will remain the same — especially their now internationally famous physique.
"All of us are really active and love sports. We like that 'jimseungdol' nickname that fans have coined for us," says Nickhun, the sole American member of Thai and Chinese descent who turns 23 at the end of this month, referring to the Korean portmanteau between beast and idol. "Instead of a drastic change in image, we want to show the sides we haven't fully explored yet with different staging styles and performances. We are constantly thinking of new ideas and concepts."
And he adds that there is more than just their bodies to be uncovered: "If you listen more closely to our music, there are softer, more sentimental tracks as well."
For more, visit www.enewsworld.com.
Who are 2PM?
The six members of 2PM — Junsu, Nichkhun, Taecyeon, Wooyoung, Junho and Chansung — all feature the good looks synonymous with K-pop groups. But since their debut in 2008, the group has attempted to distinguish themselves by adding a muscular physique and dynamic dance moves including nearly-acrobatic choreography to their act. So, while most K-pop boy bands are known as "kkotminam" or "flower pretty boys," the 2PM are more known as "jimseungnam," which roughly translates into "animalistic boys," referring to their muscular frames.
They first debuted in 2008 with a catchy tune, "10 Points Out of 10." But it was with "Again and Again" that the group hit No. 1. Then following it, "Heartbeat," which was a single from their first full-length album "1:59 PM" released in November 2009, soared quickly to the top of the charts. In fact, both the album and single climbed multiple music sales charts.
When the group first debuted, they originally had seven members led by rapper/dancer Jaebeom. But after a troublesome posting on the Internet, he eventually left in 2009. The abrupt departure of its leader briefly put the group's future on hold, but only briefly. The six remaining members regrouped their energy and music with yet another hit song "Hands Up." Popular across Asia, the group recently wrapped up a successful performance in Japan.
Each member also pursues activities outside music. Taecyeon and Wooyoung have starred in popular television dramas including "Dream High." Nickhun appeared on the entertainment program "We Got Married" where he took part in a mock-marriage with Victoria of girl group f(x).