0 Flares
Made with Flare

More Info

'>
0 Flares
×
Images by Jeff Roland
A French artist, Jeff Roland's philosophy is a simple & easy. But we know very well that simple is best, but simple is the hardest thing in this world. So, he said that when someone ask to him about art.
"Life is a dream and Art makes it a reality. Art is a vehicle for human evolution, which acts as a gateway between what was and what will be, bringing the ancestral fears and conquests to the surface of the minds of this digital age. My paintings are the interconnected pieces of a poem, woven with the yarn of our human experience.They tell the tale of who we are. I believe a deep intuitive understanding results and our dreams come through. We have to live in a chaotic world, when we all in fact, thrive in harmony. My paintings demonstrate that harmony pre-exists within the chaos itself."
So, here are the first art pieces & text of Jeff Roland's artwork with CultureM Magazine from January 2015. More detail, http://www.jeffroland.org/
His work is trying to explore the human psyche and tries to use colors and shapes to help each of us to ponder, and relflect on our lives, Magical returns is about hope and how, we, humans, are resilient, how when we are close to abandoning; life is always prone to remind us that it is still full of magic, and that we can rebounce and be ourselves again, when we thought everything was down, only better humans, with more experience and insight.
So, he said that our inner universes are constantly playing with symbols and themes that have real communication with each other, it means we should trust ourselves, and as Churchill used to say 'never, never, never give up'. 'Magical Returns' explores this universal theme, seen in individuals, countries, groups, and in nature, that all goes in cycles, and that usually it is for the better. Keep Dreaming and don't forget the Magic.
예술이 의미가 있는 이유는 주관적이고 다양하기 때문이다. 정형화된 화풍으로 모두가 이해하기 쉬운 작품만큼이나 작자 본인의 직관을 통한 혼돈과 창조의 그것을 처음 보는 무엇으로 표현해 온 프랑스 출신의 작가, 제프 롤랑드.
"삶은 꿈의 연속이지만 예술은 삶을 현실로 만들 수 있는 유일한 매개체다"라는 예술 철학을 바탕으로 그는 데뷔 이후 자신만의 독특한 시각을 바탕으로 인간의 내면과 혼돈, 그리고 그 본연의 모습을 캔버스에 옮겨왔다.  컬쳐엠매거진이 2015년 1월부터 매달 한 번 씩 그의 작품을 독점으로 공개한다. http://www.jeffroland.org/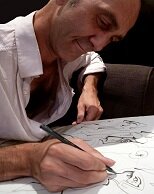 Contributor, Jeff Roland
A French artist, Jeff Roland demostrates that harmony pre-exists within the chaos itself since debut. CultureM Magazine releases Jeff Roland's unique artwork once a month from January 2015. http://www.jeffroland.org/
프랑스 출신의 작가 제프 롤랑드는 데뷔 이후 자신만의 독특한 시각을 바탕으로 인간의 내면과 혼돈, 그리고 그 본연의 모습을 캔버스에 옮겨왔다. 컬쳐엠매거진이 그의 작품을 독점으로 공개한다. http://www.jeffroland.org/