0 Flares
Made with Flare

More Info

'>
0 Flares
×
Images & Texts by Shin Mi Jung 
The construction that has changed the map
Even though Abai village seems too small a village to be divided and yet, due to a project that was to create a canal for ships to have a way into Cheongchoho Lake, the town couldn't avoid the consequence of the construction. The new canal that opened on the 12th of December 2012 had to cross the small town in half in order to connect the sea and the lake so the ships can excess inland more efficiently hence the canal became the boarder between the "two" villages now.
The 170 some residents who had lived in the area where the canal is had no choice but to move to another area. The new village they have settled in is called Mirinae village. The land was reclaimed from the swamps of Cheongchoho Lake. The irony is what had been the land for living became the waterway then the used to be part of the lake had became the land for living.
Seorak Bridge now reconnects these two Abai villages however the town that has been the home for many who have already lost their homes in the north by ceasefire line has been divided again. The reason I cherish Abai village with such longing is because the residents' lives and the town seem to share the same fate. By a Korean artist Shin Mi Jung
지도를 바꾼 공사
아바이 마을은 한 마을 임에도 불구하고 둘로 완전히 나뉘게 되었다. 청초호로 입항하는 선박의 이동 통로를 확보하기 위한 신수로 개발 사업이 추진되면서부터이다. 2012년 12월 12일에 개통된 신수로는 바닷물과 호수를 연결시켜 새로운 뱃길을 만들기 위해 마을을 가로질러 물길을 냈다.
결국 물길이 만들어 진 자리에 살고 있었던 170여 가구 주민들은 결국 다른 곳으로 이주할 수 밖에 없었다. 현재 그들이 이주하여 새롭게 정착한 곳을 '미리내 마을'이라 부른다. 미리내 마을은 청초 호수의 습지를 매립하여 만든 땅이다. 흥미로운 점은 그들이 살았던 터전이 물길이 되었고, 기존에 물이 있던 곳은 새로운 부지가 되어 다시 터전이 된 사실이다.
두 아바이 마을은 현재 설악 대교가 이어주고 있다. 하지만 남북 분단의 아픔과 휴전선에 의해 고향에 갈 수 없는 이곳 실향민들의 터전이 또 다시 둘로 나뉘어 단절 되고야 말았다. 아바이 마을이 가슴 깊이 아련하게 남는 이유는 그들의 삶과 터전이 너무도 닮아 있기 때문이다. – 작가 신미정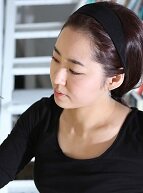 Contributor, Shin Mi Jung
She is a Korean artist who does installation, media arts. Starting with the exhibition in an abandoned old factory, she has been working on turning her interests in peoples and places that are lost in the memory into art projects. www.shinmijung.com
신미정은 설치와 영상 매체를 통해 작품 활동을 하고 있는 전도유망한 작가다. 폐공장에서의 첫 전시를 시작으로 망각된 장소와 사람에 대한 깊은 관심을 담아낸 작품을 선보이고 있다. www.shinmijung.com