0 Flares
Made with Flare

More Info

'>
0 Flares
×
Images & Texts by Shin Mi Jung 
The town devoured by the sea
In the October 1968 the residents of Abai village in Cheonghodong, Sokcho have been traumatized by what had been the biggest tsunami in the history. About 150 houses were flooded and fishing ships were destroyed by the powerful waves. The natural disaster had left painful memory to one who could do nothing but to watch her husband's boat getting sucked into the ocean.
All the houses near the shore had taken on the biggest damage so Sokcho City Hall and the government had to build instant homes for victims, which is now called 'Saemaeul' meaning new town. Small houses that look identical sits next to each other as they create small allies. Before the area had been turned into a little town for these disaster victims, it housed graveyards for those who lost lives during the Korean War.
The refugees who had settled in Cheonghodong after the war couldn't be so safe from storms and tsunami. Continuing relocation and moving may scatter their identity but the debris of places are reassembled through the individual's memory and recorded as remnants of their history. By a Korean artist Shin Mi Jung 
바다가 삼킨 마을
1968년 10월, 사상 최대의 해일로 인해 속초 청호동에 위치한 아바이 마을 주민들에게는 지울 수 없는 트라우마가 남았다. 파도가 마을을 덮치면서 150여동의 가옥이 침수되었고, 어선들이 파손되었다. 누군가는 먼 발치에서 남편의 배가 침몰되는 광경을 바라볼 수 밖에 없었던 참혹한 기억을 안겨준 사건이었다.
당시 백사장과 가까이 있던 집들이 큰 피해를 입어 속초시와 정부는 이재민들을 위한 주택단지를 건설하였고, 이곳은 현재 '새마을'이라 불린다. 작은 골목들을 사이에 두고 비슷비슷한 집들이 서로 붙어있다. 이곳은 원래 6.25전쟁 당시 목숨을 잃은 사람들이 묻힌 공동묘지가 있었던 터였다.
전쟁으로 인해 청호동에 정착한 피난민들은, 풍랑과 해일의 위험에서도 결코 자유롭지 못했다. 계속되는 이주와 이동에 의해 뿌리 뽑힌 정체성과 파편화된 장소들은 개인의 기억을 통해 재구성 되어지고, 기록에 의해 흔적으로 남는다. – 작가 신미정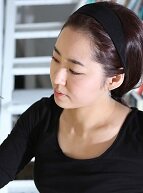 Contributor, Shin Mi Jung
She is a Korean artist who does installation, media arts. Starting with the exhibition in an abandoned old factory, she has been working on turning her interests in peoples and places that are lost in the memory into art projects. www.shinmijung.com
신미정은 설치와 영상 매체를 통해 작품 활동을 하고 있는 전도유망한 작가다. 폐공장에서의 첫 전시를 시작으로 망각된 장소와 사람에 대한 깊은 관심을 담아낸 작품을 선보이고 있다. www.shinmijung.com