0 Flares
Made with Flare

More Info

'>
0 Flares
×
Images by Lee Ji Sun
An authentic crystal ball carries the weakest deem into its little body and makes the deepest and brightest point. Ready to roll in any directions, the round water drop falls down onto the ground, flying through the cold air. Contained in the transparent drop, the black body gets out of the crystal while meeting hard surface of the ground and fractures into pieces.
After the glamourous flame, the ashes are left in the same place. Once twinkling diamonds assure their departure to the shiny worlds, the carbon powder makes the pointy mountains aligned in the pencil case. Instead of blowing with the wind, those gray residues dive into the water to form a colored drop, which vanishes their untreated surface. Different from the transparent drop through which the other side comes in sight, the drop of the ink appears so black and dark. Its surface looks like a clear mirror reflecting the view of its front side.
The brush with calmly woven hairs, the feather with a well sharpened edge, or the plume curved in silent beauty. Instruments in various shapes make a harmonized movement with the hand. They dive into the dark well, causing a small plop, to take few ink drops in their body. Soon after, the pointy end connected to the reservoir steps on the white spread sheet of paper. On the dry land of emptiness absorbs quietly the black liquid.
Starting with one fragile point, the brush dances all over the surface and leaves traces of the movement. Once the brush passes away, the ink spreads along the grain of the paper like the tree roots growing under the ground. The water feeds the dry land, making the path to the black follower, and puts some expressions on the blank face. Points and lines become the protagonist in the world they make themselves. Narrow strokes are laced one by one until they embroider imaginary figures on paper. Five fingers grab the pen's body delicately and strongly. The wrist makes the movement of the pen and the ink drop hanging at the edge writes down the letters.
End of the line meets, overlaps, or passes by the others' one. The blooming flowers are drawn and the lines create plan illusions or write the words that would never be forgotten. From the first pointing gesture, the story of the ink ends with the final dot, leaving all the traces and souvenirs on the smooth white paper. By the moment where the last drop dries, the black roots stop growing and the surface keeps its wavy surface telling the past story. After leading the ink grains to their purposed spots, transparent water droplets fly into the air. The weight of the wildly filled paper is not different from when it was still empty. The ink has penetrated to the deepest part of the paper and became the one.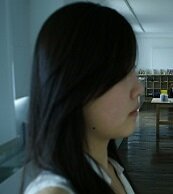 Contributor, Lee Ji Sun
Lee Ji Sun is a young Korean artist, who does activity in Paris, France. CultureM Magazine releases her art works images by drawing, writing, video, photograph in every month. http://artleejisun.com/
이지선은 프랑스 파리를 중심으로 유럽에서 활동하는 젊은 한국여성작가이다. 회화, 비디오, 사진, 글 등의 다양한 매체로 작품활동을 하고 있는 그녀의 이야기를 컬쳐엠이 소개한다. http://artleejisun.com/