0 Flares
Made with Flare

More Info

'>
0 Flares
×
Images by Lee Ji Sun 
As the snow fallen last night covering the ground without noise, the blank white paper is quiet and untouched. An early bird comes put the foot on and leaves the first fine print. Paper is pointed.
The sky stacked of fog fills the window hung on the wall with a color which mysteriously blends white and blue. Without cloud movement blown by the wind, nor any trace of dazzling sunlight, the glass frame resembles the void. At the moment where the wet smell feels and the soothing sound hears, a raindrop forms against the window. The screen is focused.
The first meeting takes place in which the name doesn't seem familiar. Traces remain on the wall, pierced and nailed everywhere for having held past works. Light spots with turned neck fixes the eye on the empty surface. The square building a house and the round figuring a face, new drawings pose their body on the flat wall. The window opens on the closed plan.
Black light is turned on in the screen where the lost field lies. Different signs of each flattened window frames wait for digital keys, keep the background music playing, or get forgotten. Among the bright rectangle layers, the curser crosses and tracks through the one upward, following the finger movements. The lamp is on in the room.
After the picture grilled of complex strokes, another one wearing sublime colors reaches the eyes. Following the scene where the time danced, another one where the space travels succeeds. A fragment coagulates unconscious wave in the moment of consciousness. The finished work obtains a signature of date and place. A photograph is added in the drawer of memory.
Aligned consonants and vowels vibrate their distinct sound in mind. The sounds accumulate at the heart and escape into open space. The fragmentary syllables harmonize into words that each takes its place on the musical scope. According to the rhythm of notes and rests, a story is played, composing a piece of life. The final piece completes the puzzle.
Then, I flip the pieces over.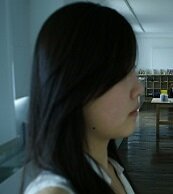 Contributor, Lee Ji Sun
Lee Ji Sun is a young Korean artist, who does activity in Paris, France. CultureM Magazine releases her art works images by drawing, writing, video, photograph in every month. http://artleejisun.com/
이지선은 프랑스 파리를 중심으로 유럽에서 활동하는 젊은 한국여성작가이다. 회화, 비디오, 사진, 글 등의 다양한 매체로 작품활동을 하고 있는 그녀의 이야기를 컬쳐엠이 소개한다. http://artleejisun.com/