0 Flares
Made with Flare

More Info

'>
0 Flares
×
Photos by Angela Kim
The treasure island from the southern sea of Korea, Purple Washington clams of Geoje Island
People say there are as many islands in Namhea shore as sand gains, and Geoje Island is the biggest one of them and the second biggest island following Jeju in Korea. The island hosts 3 mountains that are higher than 500metres and countless beaches and ports. Including Dongbaek Festival, beach festivals, mono maple tree water festival, there numouraous festivals held each season along with beautiful landscape of Haegeumkang, Hallyeohaesang National Marine Park and more. Although it is an island, it became much easier to travel from the mainland with Geoje Bridge that connects to Tongyoung and Geoga Bridge that connect to Busan.
Geoje Island was the center of shipbuilding industry, as the island became the destination for the biggest shipbuilding yards since 1970. Automobile and shipbuilding was the base of Korea's economic growth thus Geoje island played significant role in how Korea became the economic giant. The massive structures of the heavy industry along the coastline are quite impressive scenery.
10 minutes from Waipo Port towards Geoga Bridg direction, there stands Jangmok Port. When you step into the entrance towards the calm water, you can see few yellow boats docked around that are for diving apparatus. Unlike a regular fishing boat, this boat, which takes divers who collects deep-water seashells is called Meoguri. The yellow means to alert other boats in order to protect the divers around.
The reason I visited Geoje Island this time is to taste the Purple Washington clams, Gaejogae in Korean. This clam is about the size of adult woman's fist hence why is it sometimes called big clam 'Daehap'. Clams are easy to get through out a year, but it is fullest and the most delicious in spring so the people who love clams chants "spring clams, spring clams".
Purple Washington clam, which deserves its nickname 'The queen of seashells' lives deep in the water far from ports. As Purple Washington clams bury themselves under send and mud 40 meters below water, divers have to put on their gears and collect the clams with a yellow diving apparatus. Since the clams are collected by risking divers' lives, it is very precious and expensive food in Geoje island.
Purple Washington clam's meat is so firm it fills its shell, and the dark green juice from its organs is so tasty that it is simply delicious to grill it directly on fire or make soup. However there is one recipe only Geoje Island can offer. It is called JoJoookSam. 
JoJookSam stands for its 3 main ingredients "Jo" from Korean word Jogae meaning calms, 'Jook' from Jooksoon meaning bamboo shoots, and "Sam" from Samgyupsal meaning pork belly and putting these three together is known as 'the trio of Geoje Island'
Bamboo shoot is a delicate sprout from a bamboo stem in the ground that is usually wrapped in scale shaped thin layer. It has very subtle flavor yet crunch texture. Hacheong in Geoje Island produces 85% of Korea's Bamboo shoots however it can be harvested between mid April till the end of May, only 45days in a year thus it is also treated as an precious and expensive ingredient.
On a hot grill, place pork belly then follow it with bamboo roots, Washington clams, pen shells, scallops and other sea shells. Fresh seashells are usually alive so watch out for the water from its palp. 
Get a lettuce and put kelp as a base then put the clam, bamboo shoot and pork to form the best trio in town. Close the lettuce up then dip it in fermented cutlassfish sauce or Ssamjang before enjoying the unimaginable flavors you have never experienced. The firm juicy clam meets the crunch bamboo shoots mingling with thick pork belly meat that is boosted by salty fermented fish sauce that will be soothed by soft kelp. You will be able to taste the Geoje Island itself on your tongue.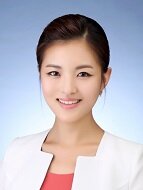 Contributor, Angela Kim
She is a food journalist of Digital Chosun Newspaper. In recent, she is working as a food director for restaurant business consulting. Also, she works as a member of Korea Tourism Organization's Korea food team and appears on various media in Korea.
음식전문기자 출신인 김유경은 현재 외식업 컨설팅 푸드 디렉터로 활동하고 있다. 또한, 한국관광공사 및 해외 문화원과 연계해 해외에서 한식홍보를 하고 있으며, TV, 라디오 등 요리관련 프로그램에도 출연 중이다.