0 Flares
Made with Flare

More Info

'>
0 Flares
×
Image by Jeff Roland
For this month, CultureM Magazine introduces a French artist Jeff Roland's art piece. And CultureM Magazine attaches the French artist, Jeff Roland's work note in direct. 
"The juggler personifies our very human tendency to try to keep control over events, and it shows us that we can do it in a smooth way, elegant and playful. In our modern lives, our imaginations, our minds are caught by multiple distractions, and it's only through technique, patience and a kind of out of the box way of thinking that we can cope through this."
"The way this painting was created follows these principles as it was first painted on wood during a live painting session in public, which didn't come out as expected, it was too static, and lacked the spark of light that i needed to show, so i decided to transform it altogether by covering parts of it and create an all new painting, using the old to create new. In everything we have done so far, there are a lot of valuable treasures, they're not perfect but the new experiences make them shine even more, and bring novelty."
"Be creative always! As a European based artist, I am looking for representation in the Asian continent, so feel free to contact me if you were interested in a collaboration. For reference, the Juggler is an oil and mixed media on wood from 2014 and is 79 x 43 cm, it will be presented in Amsterdam during my show in November at the Amsterdam Outsider Gallery. For a quote, or to book it before it goes, contact me." – by Jeff Roland. More detail about him, http://www.jeffroland.org/ or https://www.facebook.com/Jeff-Roland-125842437475598
프랑스 출신의 작가 제프 롤랑드의 2014년 작품 'The juggler'는 평소 삶과 사랑을 긍정적인 시각으로 바라보고 있는 그의 메시지를 담고 있다. 특히 작품 속에 등장하는 형체를 알 수 없는 인물과 트럼프를 통해 정해진 규칙과 룰 속에서 본인의 정체성을 잃고 있는 현대인을 우회적으로 표현한 것이라고 할 수 있다. 현재 프랑스를 중심으로 유럽에서 활발한 작업 활동을 펼치고 있는 작가 제프 롤랑드는 다가오는 11월에 네덜란드 암스테르담에서 개인전을 개최할 예정이다. 보다 자세한 내용은 제프 롤랑드의 홈페이지 http://www.jeffroland.org/ 혹은 그의 페이스북 페이지 https://www.facebook.com/Jeff-Roland-125842437475598에서 확인할 수 있다.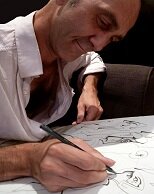 Contributor, Jeff Roland
A French artist, Jeff Roland demostrates that harmony pre-exists within the chaos itself since debut. CultureM Magazine releases Jeff Roland's unique artwork once a month from January 2015.http://www.jeffroland.org/
프랑스 출신의 작가 제프 롤랑드는 데뷔 이후 자신만의 독특한 시각을 바탕으로 인간의 내면과 혼돈, 그리고 그 본연의 모습을 캔버스에 옮겨왔다. 컬쳐엠매거진이 그의 작품을 독점으로 공개한다.http://www.jeffroland.org/